Harvey schumacher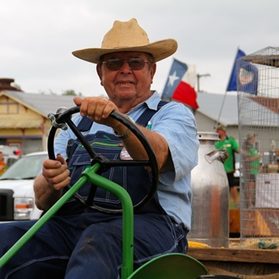 Harvey Schumacher was born in DeWitt County on March 4, 1935. He was a hardworking, honest man that loved the simple things in life. He loved his wife, family, and his many friends. He enjoyed being in the country, tinkering with tractors, and farming. He was a member of St. Joseph Catholic Church, the Knights of Columbus, Hermann Sons and Turner Hall. Harvey was a man that didn't ask for much, but took great satisfaction in helping others. When Turkeyfest came around, you could be sure that Harvey was helping out somewhere, fixing something that he somehow had a solution for.

During the 100th anniversary of the Turkey Trot in 2012, a way was needed to transport a flock of turkeys through the parade. Without being asked, he created a wonderful float made from old wood, held a turkey cage, plus a corn sheller (which the kids enthusiastically cranked at the park.) It was exactly what was needed, and he made it happen. To top it off, he brought his old, yet beautifully restored tractor to pull the entry through the procession. It was perfect. Harvey was honored on the 2013 Turkeyfest button.
roy binz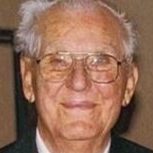 Roy Binz was born in Cuero on January 12, 1922. Roy dedicated many years of his life to his country and community: member and president of the Hermann Sons Lodge, president and director of DeWitt County Pecan Growers' Association, 38 months volunteered in the U.S. Army Air Force in World War II, ran the Cuero Farmer's Market for 23 years, 40 years as a member of the Cuero Volunteer Fire Department, and 56 years as his lovable alter-ego, Coco the Clown.
Roy created Coco while working at the Cuero Coca-Cola Bottling Company for the 1956 Turkey Trot parade. He loved being a clown, talking about clowning, and handing out combs and photos of Coco the Clown. He never missed a Turkey Trot or Turkeyfest parade from 1956 to 2012. Talk about an iron man streak that is likely to never be broken. Coco was the parade marshal of the 2004 Turkeyfest parade, honoring his years of dedication. No one ever had to call and ask if Coco would be in the parade, he was always there. And many times, he brought many other clowns with him, all family members dressing up for their Coco. Kids grew up with Coco at the parades, and he loved telling stories about how parents would bring their children to meet him and snap a photo, as they too had done many years prior as youngsters. It will be hard to imagine a parade in Cuero without our dear Coco.
Roy was honored on the 2013 Turkeyfest button.
Floyd Doehrman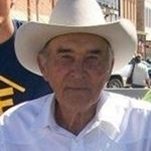 Floyd Doehrman was born in Meyersville on March 12, 1925. He served in the U.S. Army in World War II from 1944 to 1946 in the South Pacific. This was the only time he left home. That was a good thing that he wanted to come back: he served as president of the Meyersville School District, president of the DeWitt County Rural Electric Association, member of the Cuero Chamber of Commerce, president of the DeWitt County Livestock Show, president of the Cuero Rodeo Association, served on the Sts. Peter & Paul Catholic Church Parish Council, and ran the Doehrman Turkey Ranch for 37 years with his wife Doris.
Floyd saw the turkey ranching operation morph from free-range birds to the massive indoor operations that continue to this day. In many of the mid and late Turkey Trot parades, you can spot him in archival photographs leading a flock of his birds through town, with his kids helping out, and always keeping the birds in line (as much as a turkey professional can.) It was him and his family that got the last flock together for the 1972 Turkey Trot, the last of that era. Floyd was also a man that gave much and asked for nothing in return. He shied away from accolades and attention, even when it was much deserved. It seems only fitting that his ranch was the last turkey farming outfit in town. Seems like often in life, somehow the best is always saved for last.
Floyd was honored on the 2013 Turkeyfest button.
Dr. James Pridgen

Dr. James Pridgen passed on December 24, 2013 at the age of 95. He was the Grand Sultan of the 1938 Cuero Turkey Trot. His many accomplishments included accepting a surgical fellowship at the Mayo Clinic in Rochester, Minn., which was delayed briefly by his involvement as a combat medical officer in World War II as a member of the Army. When he came home, he dedicated his life to developing a world-class medical center in San Antonio, the Methodist Hospital of South Texas. His efforts were vital in the development of the South Texas Medical Center, which now comprises 900 acres, 13 hospitals and numerous medical offices.
E.T. Summers, Jr.

E.T. Summers, Jr. was born in New Orleans, La. on July 2, 1918 and passed on May 13, 2014. He arrived in Cuero in 1926. Following completion of his deployment to Europe as a Captain in the U.S. Army, he returned to Cuero to make his home and help run the family owned business, the Coca-Cola Bottling Company. Mr. Summers was very active in his community, having served on numerous boards and organizations. As proof of his place in the community, he was named Sultan Yekrut XII in 1960 of the Cuero Turkey Trot.
Frank Sheppard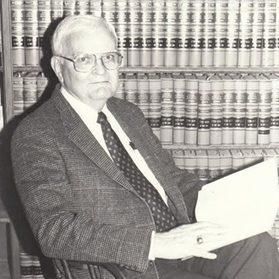 Frank Sheppard died on June 7, 2014 at his home in Cuero. He was born in Cuero on Nov. 21, 1922, to Henry Fassett and Constance Breeden Sheppard. He attended Cuero schools and received his Bachelor of Arts from the University of Texas at Austin and his Bachelor of Laws from the University of Texas Law School. In 1947 he began practicing law in Cuero and was actively engaged in the practice of law for 66 years. He also served as City Attorney for the City of Cuero for 35 years and served two terms as the County Attorney for DeWitt County. In 1947 he served as the Grand Vizier for the Cuero Turkey Trot, served on many Turkey Trot organizing boards and was named Sultan Yekrut XIV at the 1972 Cuero Turkey Trot.
Mike Weber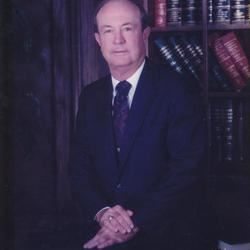 Mike Weber died on June 9, 2014. He was born in Cuero on Nov. 26, 1935, to Michael Clifton Weber and Faye Fischer Weber. He attended Cuero schools and was a five-sport letterman for the Cuero Gobblers. In 1958 Mike received his Bachelor of Business Administration from The University of Texas at Austin. Upon graduation he joined his father in Cuero at Weber Motor Company, the family's Ford dealership. It was a point of pride for Mike that after more than 77 years, the dealership was still owned and operated by the Weber family. In 1972 Mr. Weber was the Parade Chairman of the Turkey Trot Centennial Celebration. Throughout the years he had donated various services and especially his Ford motor vehicles to the Turkeyfest Parade.
Davis kainer

Davis was a major asset to Turkeyfest. Not only was he a past-president, race team member and dedicated worker, but he was an integral part of the Turkeyfest barbecue team that won many awards and represented the festival at various cook-offs.
He served as board president in 1985 and 1986. He was a four-time Ruby Begonia Race Team member, serving one year as captain and two as coach. His four year run is unprecedented in its streak.
He may have only had a 1-3 record as a racer, but his outing in the 1983 Great Gobbler Gallop in Cuero saw Ruby run a 14.39-second heat, which still holds the record as the fastest individual heat in turkey racing history.
In recent years you could find Davis on Barbecue Road happily delighting passers-by with his delicious concoctions as he participated in the Turkeyfest Cook-off. Friends as far away as Worthington, Minn. would stop to chat. It is those same far away friends who were also saddened by his passing.
In honor of Davis Kainer, the Turkeyfest Association wishes to honor his family as the Grand Parade Marshals on Saturday morning. It is a small token of our appreciation, but one that we hope that they will cherish as we look to remember him as a key figure in the history of this great event that he helped to build.
The Family of Davis Kainer were the parade marshals for the 2014 Turkeyfest Parade.
chit chat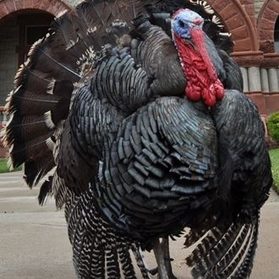 The 2017 Cuero Turkeyfest, like the 44 before it is a mix of time honored tradition and modern attractions that combine to create one of the most unique festivals around. This year the Turkeyfest Board of Directors decided to combine two of these traditions, Ruby Begonia and the Grand Parade by making this year's Parade Marshal, a turkey. Wait, we will explain.
For the past decade or so, Cory Thamm, a Turkeyfest Director and his family have raised turkeys at their home here in DeWitt County; turkeys we use to choose Ruby Begonia each year. You see, even though we've been racing turkeys for 45 years, and those turkeys have always been called Ruby Begonia, it hasn't been the same turkey each time. Turkeys only live for 10-15 years, so since 1973 we've used many different birds for Ruby.
One of the most famous of these "Rubys", we honor this year as the 45th Cuero Turkeyfest Grand Parade Marshal; a turkey named Chit Chat. Named by the Thamm's youngest son Cody, because the little turkey "talked all the time." Along with Chit Chat, we honor Cory and Wendy Thamm and family for raising and caring for Chit Chat and all the racing turkeys over the past years.
Chit Chat, like all Ruby Begonias, was born in DeWitt County, but unlike the others in his group that year, he like spending time with the humans more than the other turkeys. Soon he strutted his way into full pet status at the Thamm home; spending time inside the house, following the kids around, and playing with the dogs and cats. This friendly fascination with humans would turn Chit Chat into the most photographed turkey in Turkeyfest history.
With such a friendly personality and a natural curiosity for humans, Chit Chat soon got his shot at riding the parade float with the Ruby Begonia Race Team and making public appearances in and around the Cuero area to promote Turkeyfest and Cuero. It wasn't long before his time at parades turned into a pile of trophies and ribbons from parade judges all over Texas.
His public appearance as "Ruby Begonia" ranged from television appearances and interviews, to Cuero High School Gobbler Pep Rallies. He's been to career day to discuss turkey racing with the youth of Cuero, he's met and been photographed with dozens of music entertainers, reporters, sports celebrities, and the list goes on. He even woke up half of Comal County on Tuesday morning at 5:30 with a well timed gobble on the radio! If you have seen a picture of Ruby Begonia, or met her off the race track in the past 10 years, that was Chit Chat.
Although Chit Chat has filled in for Ruby Begonia literally hundreds of times, he has never once raced in the Great Gobbler Gallop. However, he can be more proud than a champion racing turkey because he has two past Great Gobbler Gallop champions, as well as this year's Ruby Begonia, as sons.
The Family of Cory Thamm were the parade marshals for the 2017 Turkeyfest Parade.